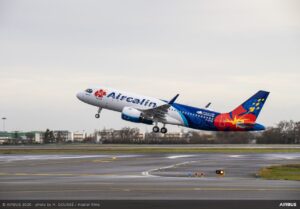 Pratt & Whitney, a division of Raytheon Technologies Corp. (NYSE: RTX), and Aircalin, the flag carrier airline of New Caledonia, a French territory comprised of islands in the South Pacific, today celebrated the delivery of the airline's first Airbus A320neo aircraft, powered by Pratt & Whitney GTF engines. The airline committed to purchase two aircraft in 2018.
"The GTF engine was a clear choice in terms of fuel efficiency, service and support when we selected Pratt & Whitney in 2018," said Didier Tappero, chief executive officer at Aircalin. "We are excited to provide our customers with a quieter, more sustainable flying experience."
Aircalin currently operates two Viking Air DHC-6-300 Twin Otter aircraft with Pratt & Whitney PT6A engines, as well as two Airbus A320ceo aircraft with V2500® engines from IAE International Aero Engines AG, a multinational aero engine consortium whose shareholders comprise Pratt & Whitney, Pratt & Whitney Aero Engines International GmbH, Japanese Aero Engines Corporation, and MTU Aero Engines GmbH.
"Aircalin became a Pratt & Whitney customer in 2000 with the Airbus A310 aircraft and PW4000 engines," said Rick Deurloo, chief commercial officer and senior vice president at Pratt & Whitney. "Now, with Airbus A320neo aircraft and GTF engines, we look forward to delivering industry-leading technology, fuel efficiency and environmental performance to Aircalin."
Since entering service in early 2016, the GTF engine has demonstrated its promised ability to reduce fuel burn by 16 percent, to reduce nitrogen oxide emissions by 50 percent to the regulatory standard, and to reduce the noise footprint by 75 percent.
About Pratt & Whitney
Pratt & Whitney, a unit of Raytheon Technologies (NYSE:RTX) is a world leader in the design, manufacture and service of aircraft and helicopter engines, and auxiliary power units. Raytheon Technologies Corporation is an aerospace and defense company that provides advanced systems and services for commercial, military and government customers worldwide. To learn more about RTX, visit its website at www.rtx.com. To receive press releases and other news directly, please sign up here.
This press release contains forward-looking statements concerning future business opportunities. Actual results may differ materially from those projected as a result of certain risks and uncertainties, including but not limited to changes in levels of demand in the aerospace industry, in levels of air travel, and in the number of aircraft to be built; challenges in the design, development, production support, performance and realization of the anticipated benefits of advanced technologies; as well as other risks and uncertainties, including but not limited to those detailed from time to time in United Technologies Corp.'s Securities and Exchange Commission filings.
Pratt & Whitney
+1 (860) 565-9600
media@prattwhitney.com
Source: Pratt & Whitney